Split-Flap TV Documentation
Open Boards
From your dashboard's menu, click the Boards option.
Add a New Board
On this form, you will find a list of all your boards. As a first-time user, click the Add Board button.
Board properties
To create a Board, start with a name.
Then choose if you want to have that typical clicking sound when the text is updated on your Split-Flap board.
And finally set the desired number of rows or lines, and the number of characters on each row. You can add messages to a Board, but they will all use this dimension for all messages. So make sure that your messages fit.
Board Created
Your first board is now created but does not contain information or text. Click the Messages button here.
Add the First Message
Click the Add Message button to add your first message to this board. Think of a message as a slide in a presentation. You can have multiple messages just like you would have multiple slides in a presentation.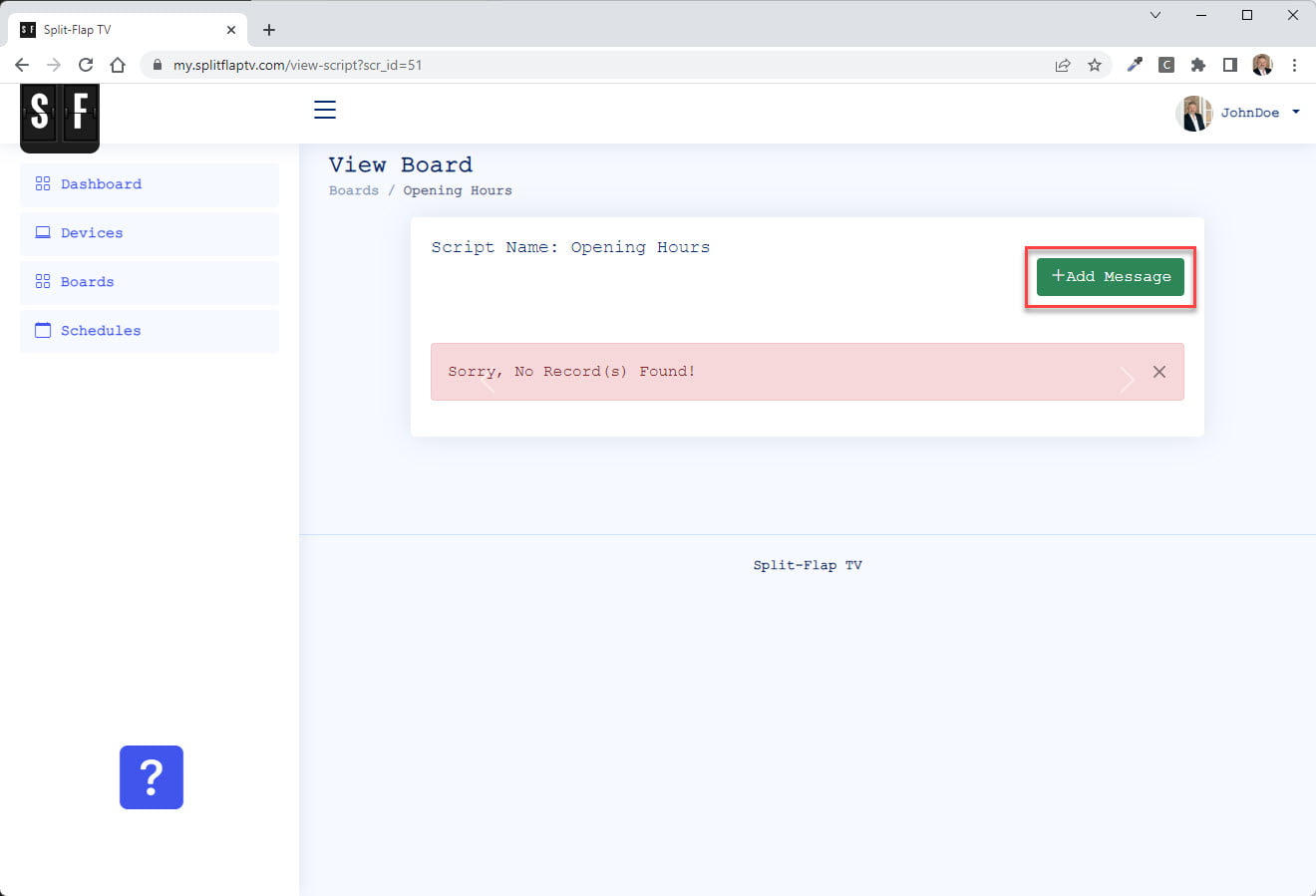 Message Properties
The sequence is a sequential number to indicate the order of your messages within the board. When you add messages, they are automatically added after the last message of your board. You can change the message number to re-order your messages.
Enter your message, your advertising, or whatever text at the message's textboxes. Here you can type all the text for all the lines of a board. So when you created a board with 5 rows, then you can enter 5 lines of text here. Whenever your first line is filled in, hit ENTER and start entering the text for the second line.
The user interface is not checking the number of characters on every line because of the shortcodes that you can use. Do not exceed the number of real characters on a line or it will be truncated on that line.
All your text will appear in white on your Split-Flap TV board. We will discuss the coloring or attributes field in another article.
In the duration field, you can specify the number of seconds that this message should be visible on the board. Make sure that the duration is long enough to read the content of your page.
Hit Save to commit the changes.
Message Added
This message is added to your board. You can see a preview here. Use the Edit button to make changes to your message. Or hit Delete to remove the message from the board. Or click the Add Message button to add more messages to your board.
Board Ready
Our board is ready now and can be scheduled for playback on any of your Split-Flap TV devices.